THESSALONIKI BIENNIAL: ( 98weeks Bazaar)
18th September – 18th December  2011
Thessaloniki Biennial, Greece
98weeks, Beirut
Printed matter – Bazaar
.
..  
. . . . . . . . .
TOUCH: (SLEEP: Performing Statistics)   3/3
14:00     3rd. October 2011 /
Hosted by Alman Hastanesi / German Hospital (Universal Hospitals Group)
Sıraselviler Cd. No.119. Taksim, Istanbul
.
BLACK DOOR ISTANBUL operates in SLEEP within infrastructures; systemic displays and timeframes derived from the fields of conference, fair and forum.


SLEEP: Performing Statistics    2/3
19:00         23rd. September 2011
Kafe 17
, Sıraselviler Cd. Hocazede Sk. Taksim,Istanbul .
Untitled,
Cosmetic on paper, 2011. Manuel Gorkiewicz
Courtesy of the Artist
.
FORECAST:
A –
0090
(Antwerp),  B –
Mashallah News
(Beirut), C –
Superpool
(Istanbul), D –
Buildings and Politics
(Istanbul; New York), E –
Sans Practice
(Beijing) .
FORUM:
( Playlist links  from *INTRO: MACHINE CLUB* 17.09.2011 )
Der Grieche, The XXXXXXX, Ranglekods, Franziska Mercedes Cordes, Ergot Garden w/ Calm Palm, Strong Minded, Munit, F L O W R S, PORSCHISMUS, Trüe Deined 4.0, Denied Reality, Cortina, So So Modern, Die Die Die, Beauties of the Night, Basketball,  and more…
.
SLEEP:
*INTRO (SLEEP: Performing Statistics)*   1/3
17:00 – 20:00       17th. September 2011
Machine Club, Istanbul
.
.
ATTENDING: Leipzig, EEG

19:00         25th. August 2011
Essential Existence Gallery
, Leipzig, Germany.
Attending website
.
. A series of four art salons initiated by Hendrik Niefeld and Ronny Szillo inspired by Rafaël Rozendaals BYOB format every salon consisted of an few hours lasting exhibition of projected artworks. The four exhibitions featured eight artists per evening, each showing one work. Visitors and artists could attend the salons and featured exhibitions IRL or online via Ustream, as well as the G+ Hangout. Participating artists have been asked to invite one other appreciated artist to the following exhibition. .
. .
"*
MENU

*"

16th. June 2011

Black Door Istanbul –  INTERFACE BERLIN  –  

Flutgraben Studios

, Am Flutgraben 3, 12435 Berlin

How to get there (pdf)

Next public transport stops: U-Bhf Schlesisches Tor/Warschauer Strasse / S-Bhf Treptower Park
.
.
.
.
.
.
.
.
.
.
"WORKS DON'T COME EASY"
Philipp Ackermann
&
Paul Philipp Heinze
19:00          26th – 29th November, 2010
Black Door Istanbul
Uptempo. Beats. Blast. Handclaps. Repetition. Show us your tits. Colors. Shirts. Against everything. Memorable. Intensive. Sphere. Sweat. Mayhem. Drugs. Laser. Basss. Smoke. Steam. Middle class – No thanks. Evil ways. Scratches. Eerie. Restless. And you know that i know it's you who's all alone. Floating. Flickering. Gleaming. Intoxicating. Shouts! Tanked. Chavvy. Staccato. Superior. Excessive. Dodgy. Reverb. Sophisticated. Pushy. Fast. Observing. Shoes on sticky floors. Schlachtenbummler. Alert. Heavy. Echo. Echo. Plastic. Crackling. True. Jag. Social. Wide awake. Dawn. Sunrise. Sky. Night. Wodka. Energy. Fever-bright.
.
.
*FLORIS BOVEE (NL) . MARIUS DAHL (NO) . ZORO FEIGL (NL)*
19:00        10th  – 18th November, 2010
All three new works have been produced in Istanbul, for
Black Door Istanbul
. .
. . . . . . . . . . .
Floris Bovée
creates a world in which he communicates a romanticized notion of technology and mechanical processes. He investigates the principles of matter; force, balance, movement, light, and reflection. These principles are translated into analogue systems which interact with the characteristics of a given space; minimal interventions which intensify their architectural surroundings and evoke for the viewer a new experience of space and time.
www.florisbovee.nl
Marius Dahl's
inspiration is drawn from a variety of sources; science, industrial estetics, machines and technology. His latest work focuses meticulous attention to surface detailing, almost on a fetish like level, both enticing and repulsing. The new metallic relief works redefine space within their architectural setting. The visual language and thematic departure continue from Dahl's previous timber studies, often exploring the duality of science and technology as saviour/destroyer.
Zoro Feigl's
works exploit the consistency of physical laws and material properties. His sculptural installations create an ever changing outcome of a repetitive energy. The enormous amounts of force involved in the works lead to slowly yet forcefully shape shifting systems. The manifestation of physical energy through material could essentially be described as a fountain; each piece is an exhibition of a singular driving energy, which is ultimately defeated by gravity.
www.zorofeigl.nl
.
.
*The Black Door Files*
The Archive is accessible from September 24th to November 4th, 2011
Opening hours:
Wed. – Sat. 14:00 – 18:00 & Fri. 20:00 – 00:00 / Viewing outside gallery hours by appointment
List of the participating artists: click 'the black door files'
For opening pictures: click 'past events'
.
.
*SUNDAY NIGHTS*

with

DE SERVICE GARAGE (NL)
Sunday 31 October 2010,

Black Door Istanbul
.
Charlott Markus (SE) –

De Service Garage, Amsterdam


Benjamin Roth (NL) –
'About A Painting'


Pieter Verbeke (NL) –

'Once we Are, the Past is the Future'
.
'Once we Are, the Past is the Future'- In the beginning of the 19th century the Polish princess Izabela Czartoryska ordered the Temple of the Sibyl being built in Pulawy, Poland. The temple was an exact copy of the Temple of Vesta, built around hundred BCE in Tivoli, only exactly twice as large. Czartoryska's temple hosted a collection of objects, meant to redefine the Polish identity after the country was invaded by its surrounding countries. It hosted, let's say, the collective memory of the Polish people. The lecture

Once we Are
will elaborate on our projections into objects. Or how we see history not as what it was, but how we want to see .
. . . . . . . . . . . . .
.
.
.
.
.
.
*A/B MACHINES: A CAUTIONARY TALE*
20:00       29th September, 2010
Video selection curated by Nathan Lee
Total Runtime: 84 min
Hello. What is your machine? How does it work and where does it go? Are you an archival machine? Remember to be careful.
.
.
*The Black Door Files OPENING*
19:00          Thursday 23rd September, 2010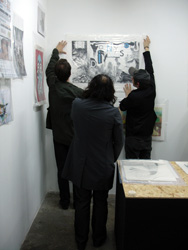 *FLOWERSHOW*
Opening Thursday 16.09.2010, 19:00
16th September – 07th October, 2010
Franziska Cordes, Normen Perke + Introducing THE BLACK DOOR FILES cabinet
Black Door Istanbul
FOR YOUR PLEASURE
SIYAH KAPı ıSTANBUL *FRIDAY NIGHTS* . 05.11.2010
Bize Elton Johns kuzeni duyurmak FJ Kaçırma tarafından desteklenen SIYAH KAPı ıSTANBUL bu Cuma oynayacak için bir zevk.
.
.
*RECENT ARRIVALS* / Updating the Archive

Opening / Preview – Thursday 21st October, 2010      18:30


22.10 – 4th November, 2010


Yaron Attar (IL), Latif Erdem (TR), Manuel Gorkiewicz (AU), Özlem Günyol / Mustafa Kunt (TR), Volkan Kaplan (TR), Peter Kogler (AU), Derren D. Mclin (US), Philipp Schwalb (DE), Canan Tercan (TR), Christoph Wüstenhagen (DE), Ekrem Yalçindağ (TR)
Tuesday 21.09.2010, 22:00

Memory Boys / Concert Performance (Seattle, USA)
Istanbul Release / Album "Destroy Before", 2010
& Ian Ackerman / Drones (Olympia, USA)
& FJ Kaçırma (Berlin, Bebek Istanbul, D-TR)
*SATURDAY* 11.09. 2010 16:00 – 21:00

"Herzplosion" by elektrisch-orthodox streamed by westfernsehen.net
live videostreaming from Leipzig, Germany to Istanbul, Turkey
live screening @ Black Door Istanbul
check: http://elektrisch-orthodox.org http://westfernsehen.net